TYSON TALK
Cynthia Todd; Of The Post-Dispatch Staff
St. Louis Post-Dispatch
09-29-1996
WHETHER they're 50-something white males or Latino members of the hip-hop generation, members of America's public know of what you speak when you utter the name Tyson.
Male model
Tyson Beckford
- the first to land an exclusive contract with designer
Ralph Lauren
- drew a human smorgasbord to Famous-Barr recently as the store opened its Polo Shop at Saint Louis Galleria in Richmond Heights. For an hour and longer, scores of women and men waited their turn to stand with, shake hands with and get the autograph of the 6-foot, 1-inch man whose impact on the fashion industry mirrors the days of
Twiggy
.
"Oh, he's better looking than his pictures," gushed
Laurie Polsky
, 51, who, with her daughter,
Jennifer
, has been scoping the muscleman in magazines for months.
Kahl Nantambu
, 34, showcased the centerfold in Sister 2 Sister magazine that
Tyson
had autographed for Nantambu's girlfriend. Nantambu had volunteered to endure the wait so that his girlfriend wouldn't have to miss a day on her job at
General Motors
' Wentzville plant.
"He told me I shouldn't give this to her until I'm in trouble," Nantambu said. "But I'm going to give it to her now because if I don't, I will be in trouble."
Bernita Sparks
, 42, watched in awe as her daughter, Janita, 17, squealed after having her picture taken with the fashion-world wonder.
"She's in love with this guy,"
Sparks
said. Did she now understand her daughter's unbridled enthusiasm? "Oh, yeah!" she said. "Look at him!"
Look at him, indeed.
Tyson
is 195 pounds of sculpted muscle. Look at his face and before you are traces of his Jamaican, Panamanian and Chinese heritage - his chocolate coloring, full lips and narrow eyes framed by black brows.
Watch him for five minutes, and you get a sense of why he's become such a sensation.
"Tell me why you're the best," he said to a 17-year-old as she waited for her autographed picture. "Because I am," she replied. "No, tell me something about yourself,"
Tyson
said, eliciting a smile from the teen. "Tell me you're going to college."
He hardly hesitated when another lady asked him to bare his back so that onlookers could see one of his nine tattoos. First, he quickly scanned the area looking for the Polo representative who'd accompanied him to St. Louis. Not seeing her, he stood, removed the shirt and turned to reveal the words "For Life," which stretched from shoulder blade to shoulder blade.
Immediately, the women screamed.
"I don't know why women get excited over me,"
Tyson
said before taking the stage to meet his admirers. "They didn't get excited about me when I was a junior in high school."
That was nearly a decade ago in New York, around the same time that his mother,
Hillary Dixon
- a former Miss Jamaica and model - nudged her son toward the fashion world.
"She tricked me into going to the area malls to model,"
Tyson
said.
But his big break didn't come until years later, when he was 22. He was sitting in a park in New York and was spied by an editor for
Source
magazine, who persuaded
Tyson
to pose for a fashion shoot.
Tyson
then got an agent, Bethann Hardison (Kadeem Hardison's mom), of Bethann Management, who groomed, counseled and exposed him.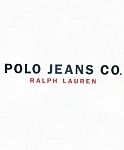 Polo Jeans
Co.
Ralph Lauren
- Fall/Winter 1997, PH:
"'I went to see (fashion photographer)
Bruce Weber
," Tyson said. "He sent my pictures to Polo. They said I was too big, too muscular and sent them back." (Tyson wears a 42 long. The average male model wears a 40 regular.) But Polo reconsidered and decided it wanted to go with a guy whose look was a little different. First came an advertising campaign for the Polo USA sweatshirt.
"That was the first time they ever put an African-American in their ads, and the response was incredible," he said. "They sold a lot of sweatshirts." Also incredible was the exposure
Tyson
got during the campaign: stories in
GQ
,
Details
,
L'Uomo Vogue,
L'Uomo Mondo
,
British GQ,
the
New York Times
and a cover story in
Essence
magazine.
Last year,
VH1
named him
Male Model of the Year
. Fashion editors have named him the male model with the best physique.
People
magazine includes him among its "50 Most Beautiful People." And he was among the supermodels featured during the presentation of the Best Costume Design award at this year's
Oscars
.
All the hoopla has garnered
Tyson
the label of role model, a claim he considers erroneous but one that he still takes seriously. "By nature I'm a little bad boy, mischievous," he said, smiling and arching his eyebrows. "But when they told me I was a role model, I kind of straightened out. Basically, I don't think I should be your role model, but I'll try to set a good example.
"Mom and Dad should be your role model, your older brother, your uncle." His own family provides the example that
Tyson
follows. His mother is helping him to realize a lifelong dream of starting a recording company, Black China records. She is divorced from
Tyson
's father,
Lloyd Beckford
, a telephone company executive in Jamaica. Of his seven brothers and sisters, Tyson is the only one with an artistic bent. An older brother,
Patrick
, who encouraged
Tyson
to model, was killed two years ago by robbers.
Patrick
's death was the spark that moved
Tyson
to seriously plan for the future. He sees modeling as a steppingstone to his real ambition - acting. He's in the talking stages with Hollywood types about a starring role in the film version of "How Stella Got Her Groove Back," a bestseller by
Terry McMillan.
You guessed it. He would play
Winston
, the boyfriend, opposite
Angela Bassett
.
How excited is he over that prospect? "Girl! You just don't understand," he says, shaking his head. "I'm going to have to make sure I do a couple of takes if they say, `Oops, kiss her again.' I'm going to have a good time with that." But much depends on his future with Polo. He's in the middle of a two-year, contract said to be worth a half-million dollars (though he won't verify the amount). Meanwhile, he's enjoying the modeling but keeping everything in perspective.
"You have to because the public has put me where I am today," he said. "But they can easily put you out. "You can say, `Oh, I'm Mr. Man, I'm all of that,' and they'll take you right out.
"I'm just a humble person. That's how my mom and dad raised me. Family's the key. I think if you have your family behind you, you'll be all right."