Brand:
Polo Ralph Lauren
Year: Spring/Summer 1995
Model:
Tony Bruce, Cecilia Chancellor
and
John Rawlinson.
Photographer:
Bruce Weber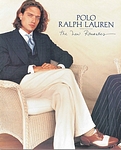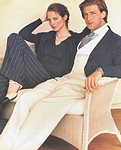 I've seen that other model in Polo ads since 1988 but I don't know his name, I'm pretty sure
Bruce Weber
knows it ;), I think he photographed this ad.
update: Gaby has identified the model, he's
John Rawlinson
.