Brand:
Hero
by
Prince Matchabelli
Year: Fall/Winter 1988
Models:
Photographer:
Price Matchabelli
is now developing an acquiring taste. (men's perfumes)
Daily News Record Article date:August 18, 1988
Author:Barr, Elizabeth
GROOMING & FRAGRANCE By ELIZABETH BARR NEW YORK -- Elizabeth Taylor's Passion For Men may be the next fragrance introduced by
Prince Matchabeli
. In addition to its recently launched men's fragrance, Hero, in firm plans to introduce other products as well as acquire personal products companies.
You need to establish a nice portfolio of core brands with their own identification and potential," he said. "In some cases we will have a far bigger return on our investment by introducing a new product." One such case is the introduction of
Hero
. Rather than investing to rebuild
Matchabelli
For Men, the company developed
Hero
for the mass market.
Commercial uploaded by
hereinmylifetime
The product -- which has packaging and advertising that are a bit more upscale than many mass market fragrances is surrounded by an image that is keenly in tune with the times. Society is trending toward traditional, conservative values, which are often associated with times when some men were considered heroes. The imagery surrounding
Hero
is that those men who are both manly and gently are the real heroes and that any man can be a hero in someone's eyes.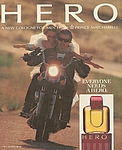 Matchabelli
will spend approximately $15 million for the launch and post-launch support program of
Hero.
This will include advertising in print and on television October through December.