A PHOTOGRAPHIC LAYOUT THAT GOES TOO FAR
Julie Hatfield
, Globe Staff
The Boston Globe
05-07-1987
Ever since
Brooke Shields
revealed her true feelings about her jeans ("Nothing comes between me and my Calvins") to television audiences several years back, fashion advertising has pushed further and further toward titillation and, depending on one's point of view, pornography. Denim and perfume, particularly, seem to bring out the lust in the minds of advertising copywriters and photographers. Sex sells.
This month,
Rolling Stone
took the sexy fashion photo a step further with a six-page layout in its May 7 issue showing a young couple in denim. These pages aren't advertising, though, but an editorial fashion feature commissioned by the magazine.
------------------------------------------------------
Rolling Stone
"
Not Fade Away
"
1987, Issue #499, May 7
Models:
Rodney Harvey
and
Lisa Marie Smith
Ph:
Andrea Blanch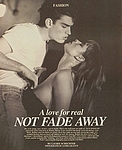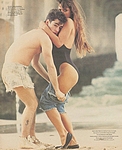 ------------------------------------------------------
The feature, billed as a story about denim, consists mainly of photos of an attractive young man and woman fondling and undressing each other.
Rodney
has his hands inside Lisa's strapless top,
Lisa
has a hand inside
Rodney
's undershorts, and both of them, mouths open, seem barely able to wait for the photo session to finish so that they can Do It. As for denim, in one photograph,
Rodney
's stone-washed overalls are pushed so far down on the bed that one can barely detect that they are indeed made of denim. In another,
Lisa'
s ice-washed denim jacket is crumpled in a lower corner of the page while Rodney has his hand locked onto the inside of her thigh. Her lace push-up bra -- by Poirette for
Victoria's Secret
-- pushes not only up but forward, against
Rodney
's undershirt (for which there is no manufacturer credit).
We asked
Rolling Stone
fashion editor
Laurie Schechter
for a sample photograph from the session for publication in the
Globe
, and she agreed. But three days later, when the photographs had not arrived, we were told by
Hope Henning
of the magazine's promotion department that, because "we are garnering more attention from this layout than we usually would, we cannot be as helpful in discussing it with you, and we cannot send you any photographs."
According to Schechter,
Rolling Stone
has been deluged with mail, mostly from outraged parents objecting to the pictorial display of sex between two teen-agers (the
male
model
is 19, the female is 18), in an era fraught with fear of
AIDS
, other sexually transmitted diseases and teen-age pregnancy.
"But," reasoned
Schechter
before the magazine forbade her to talk to the media, "as I explained in the copy, these two are lovers off camera as well. They are going to get married, I just found out. I felt that a lot of people out there are doing sexy pictures and they're not really sexy. This was something that could relate to real life. I don't feel that sex is to be ignored.
"I don't see that
Rolling Stone
is for children, and besides, I don't believe in censorship. If I could have the space to write more in the copy blocks, I would educate the kids as to safe sex and responsibility. As it is, my grandmother loved these photos, and my father liked them. My mother didn't, though." Schechter has no children of her own.
"And basically," she added, "how much can you do with a five-pocket jean to make it interesting?"
Photographer
Andrea Blanch
said the layout was her idea. "People have told me they think these pictures are beautiful and sexy. The photographs are saying that these are two young people in love. I didn't take the photos with a social significance in mind; there were more risque pictures in the group, but the magazine editors picked these because they thought they were safer. I don't associate this magazine with young teens and I don't think I'm contributing in any way to teen-age sex. It's not really selling denim; it's selling an image. I don't like drugs, and if I photographed drugs I would do so in a negative way. I happen to like sex, though . . ."
Blanch
has no children.

Rolling Stone
editor and publisher
Jann S. Wenner
summed up what he thought of the controversial layout in "one three-letter word: Hot!"
Here is what some Bostonians had to say about the layout:
Lucas Sussman
, 18, of Cambridge: "It's awfully explicit, but it wasn't shocking to me. I'm sure no teen-agers are appalled. There's nowhere you don't see this type of thing. Movies, TV,
MTV
, Solid Gold, it's everywhere. The first time I saw something like this, when
Brooke Shields
did the jeans ad, it was shocking to me, but I liked it. It's sort of tapping into what we wear denim for, anyway. If I had seen this layout when I was in the 8th grade, which was when I used to read
Rolling Stone
, I admit I would have been really titillated."
Sussman's mother Elisabeth said, "Although I would never prevent my child from reading a magazine, I think the pictures in
Rolling Stone
are unfortunate. They look like a parody or a takeoff of the days of
James Dean
. It's quite accurate in terms of what the young
male
wants to look like today, I think; the new rebel. It's so macho. The girl looks like a parody of the '50s, with the emphasis on breasts. The pictures are unfortunate in that they're not tender."
David Ross
, director of the Institute of Contemporary Art, said, "It's sort of a
Bruce Springsteen
takeoff. I would hope that my daughters, who are now 4 and 8, would not
model
for something like this."
Dorina O'Connell
of Framingham, said, "I have a number of teen-aged nieces and nephews, and while I realize they are not naive about sex, I cannot visualize any of the teen-agers in my family acting like this in private. I think my nieces and nephews are more involved in friendship and in peoples' feelings than they are about blatant flesh. I don't think they would be as selfish with each other as the two in these photos are. This is not the normal, run-of-the-mill teen that I know. Most of the teen-agers I know today are interested in bettering themselves, not demeaning themselves."
Larry Inglese of Charlestown, father of four children, aged 14, 18, 19 and 21, said, "I can see where the article would probably be controversial, but I don't take offense with it. I would be surprised to see a similar layout in
Time
or
People
or
Newsweek
, but in
Rolling Stone
, it's not offensive. I would be kidding myself if I thought teen-agers did not know much about sex. It would probably get their attention, but from a marketing standpoint, I don't think it shows the item the magazine wants to sell as clearly as it could have."
Henry Pearson
, a fashion professor at Newbury College, said, "The layout is against what we professors are trying to do with students of fashion. Presentation is the crux of marketing, but we don't want to over-market uncontrollable desires, and you can leave something to the imagination. The students read this information and treat it as a bible. My students are in touch with their sexuality, but they would say this is going against what we've been doing all semester, which is going along with church and family."
Dorothy Barry,
administrative assistant at the Paige School in Roxbury, said, "It's not going to shock or harm my 12-year-old daughter and I would let her see it, but it's insulting to young people, appealing to their basest instincts. Is that how they have to sell jeans these days?"
Marcus Wheeler
, 15, of Roxbury, said, "It's exploiting lots of sex. It makes it look like you'll have that kind of action if you wear denim."
Susan McCarthy
, 15, of Hingham, is a student and an editor of "Declaration," a small magazine covering local and underground bands. She said, "If a layout such as this were submitted to my co-editor and me we would reject it, because it doesn't fit into the rock music scene. I don't think
Rolling Stone
has any place covering fashion; it's stupid in a rock music publication. It didn't shock me, but I don't see that you have to show that a pair of jeans is going to make you sexy."