Adnan Taletovic

(or

Taletovich

)

was born 40 years ago in Bosnia, 3 months later, together with his parents, moved to Croatia where he was raised. At the age of 8 started Judo lessons, becoming a few years later Junior Champion.
But in 1990, while studying law, to become a lawyer, he wanted to see what was "behind the hill" and left to Italy to start his modeling career; being in Rome and Milano, he did a few small campaigns. Searching for more, one day, coming out from one of the agencies where he'd been turn down for not having a "good" portfolio, a model-agent saw him, and offered to fly him to France.

Once in Paris, he did a few photo tests, and after designer Thierry Mugler saw the new portfolio, offered him to be on his fashion show with some of the biggest model stars of the world, like, Linda Evangelista, Naomi Campbell, Eva Herzigova, Christy Turlington and others.
In the audience, there were some of Valentino's "staff", inviting him to do a campaign back in Italy, things didn't work out as he had planned, so, he went back to Paris, where Karl Lagerfield heard about him, and offered him his perfume and clothes campaign, worked for him for 3 years, while doing big campaigns and fashion shows for designers like: Versace, Moschino, Paco Rabanne, Valentino, Jean Paul Gautier, Christian Dior, Yves Saint Laurent ,Oliver Strelli, Dirk
Bikkembergs and others.
The close friendship and work with Mr. Karl Lagerfeld, fashion designer and photographer for his men's clothing campaign and "Photo KL" perfume was the crucial experience. During numerous photo shootings for Vogue magazine he learned from Mr. Karl about style, lighting, and composition—the three most important factors to create beautiful high fashion image.

Mr. Karl's influence helped Adnan make his decision to move to New York and Los Angeles in 1996 to study art, film and photography. After four years of academy, he decided to move back to Paris in 2001. There he developed his unique photography style which is elegant, sexy, rich in diversion and very lively. His models are alive like in the movies. That is the influence of years of studying Hollywood films at the film academy. He is successfully making fashion images for various high fashion clients' magazines and catalogues including Corleone Jeans, Fashion Style, Granoff, Masatomo. In 2006, Adnan moved to China and Hong Kong where he continues to produce high fashion images for magazines like Tide, Soon, His Life, Lime Hong Kong. ..
his website: http://photography.baystarhongkong.com/bio.html
Brand: Valentino
Year: Spring/Summer 1995
Models: Adnan Taletovic and Claudia Schiffer
Photographer: Arthur Elgort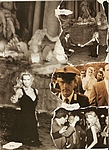 Valentino

ads were scanned by "

Frenchkiki

" for the Bellazon forum.